My Plan for Revitalizing Downtown
We've heard a lot of talk from candidates about "revitalizing the downtown core" and "making sure intensification is done right". But without a solid plan, it's all just talk.
Here's my plan:
1) Identify the Problem
Milton is a town of well over 100,000 with a downtown designed for 20,000.  That traditional core cannot be developed much further because we need to preserve its heritage buildings and neighbourhoods, and because much of it is on the Sixteen Mile Creek flood plain.  The area also suffers by being isolated from the growing areas of town by a wasteland of industrial units, strip malls and empty lots.
Some candidates think that downtown Milton is doing just fine. To be sure, many businesses are thriving – particularly the many fine restaurants that have opened in recent years – but many are also struggling and going under. Perhaps more importantly, Main Street is lacking the sorts of businesses that serve neighbourhood residents and draw people downtown every day, resulting in a proliferation of big box developments on the outskirts of town and a downtown seniors population unable to access groceries or essential services.
2) Plan the Solution
In terms of population density, central Milton has become the hole in the doughnut. Businesses go where the customers are, and right now most of the customers are concentrated in a ring around us.
Milton's Infill and Intensification plan will potentially remedy this situation by re-developing and building up the areas to the east and west of our traditional downtown core. The vision is of a continuous, vibrant, pedestrian-friendly downtown strip running the length of Main Street all the way from Bronte to Thompson Road.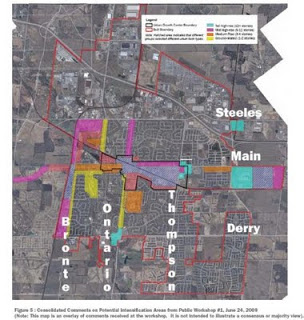 This plan would concentrate residential, retail, and office growth in the centre of town instead of sprawling further outwards, and would draw customers towards our existing historic shopping district, making those businesses more viable for everyone. It will also make services such as transit more efficient, and encourage more facilities to locate downtown.
The problem is that, while the intensification plan presents a wonderful vision of Main Street business and residential development, there are no incentives or other mechanisms in place to make it happen.  There is no reason for existing property owners to invest in redevelopment, and nothing to prevent developers from building more strip malls, parking lots, and big box stores.
3) Make it Happen
The Planning Act provides a way to help municipalities take control and accomplish exactly the kind of redevelopment proposed in our intensification plan.
It's called a Community Improvement Plan, or CIP.
Designating all of Milton's Urban Growth Centre as a CIP Area would give the Town access to a wide range of tools and mechanisms such as tax increment financing, development charge deferments, area-specific development charges, bonusing options, and site plan controls that would allow us to actively encourage desirable types of development and to offer practical incentives for property owners to move ahead with redevelopment. Most of these would cost the town little or nothing, and would ultimately save us money by increasing service efficiencies.
It could mean the difference between this…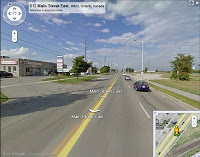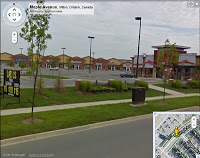 And this…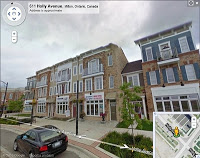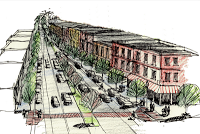 A CIP would also give us access to Federal and Provincial funding for things like 'brownfield' rehabilitation. In fact, if the old paint factory lot by the tracks had been part of a CIP, we might have had access to funding for the clean-up instead of having to pay for it all ourselves. Currently, there are properties along Bronte St. North that could use brownfield rehabilitation funding.
Having a CIP in place would also help us make our case to Halton Region to move ahead with added water and sewage service to the intensification area.
This idea is nothing new. The City of Hamilton has been using CIPs to revitalize many of their declining brownfield and industrial areas, as have many other towns and cities.  In fact, a consultant's report presented to Milton Town Council three years ago recommended a CIP for precisely the reasons I have outlined here.
The recommendations were ignored and the idea of an expanded CIP was left out of our revised Official Plan.
As your councillor, I will work with staff and our new council to develop a Community Improvement Plan that will benefit existing businesses, create a walkable, 'small town' environment for Ward 2 residents, and provide a vibrant town centre for everyone in Milton.
Enough talk. It's time for action.
(this post was updated from one originally published in October 2010)