Breaking Down the Fourth Wall
Breaking Down the Fourth Wall
July 11, 2012
Comments Off

on Breaking Down the Fourth Wall
The 2010 municipal election in Milton brought some much needed fresh air to our Town Hall. There were new faces, new ideas, and a new sense of civic engagement and empowerment that I have never experienced in this town before.
In just a few months we saw the implementation of online streaming and video archives of council and committee meetings, public input meetings on the budget, WiFi at Town Hall, and the founding of the Hawthorne Village Residents Association.
Sadly, some of that energy has dissipated. Our new councillors are still plugging away at new initiatives like open data and continue to try to engage their constituents, but there seem to be fewer and fewer people paying attention. Hardly anyone shows up for Council meetings any more (although they may be watching from home), and I haven't heard a peep from the HVRA in almost a year.
So what happened?
Are we really so bored that we only pay attention to municipal governance around election time? Is there anything we can do to get people engaged, and then keep them engaged?
One answer may be a set of proposals from Toronto community organizer and civic activist Dave Meslin called 'The Fourth Wall'. After years of involving himself in municipal issues, Meslin set out to identify the specific barriers that exist between his fellow citizens and their local governments, and then propose simple and effective ways to break through those barriers.

He presents these ideas as series of display boards, but the display itself is an exercise in public engagement, with pencils and stickers and tags that bring people into the discussion and make them part of the process.
 Many of the proposals are no-brainers, like the re-design of public notices for zoning changes and other important municipal activities. Most public notices published in newspapers or posted at construction sites are so text-heavy and jargon-filled that even the biggest civics geeks among us often have trouble identifying what exactly is being proposed.
I attended a reception on Monday for the Fourth Wall exhibit at Toronto City Hall. Just walking into the rotunda drove home many of Meslin's points: it's a cavernous, unwelcoming space, poorly lit, with very little in the way of signage or other indications of where one is supposed to go.
There are 36 proposals in the presentation. Some are specific to Toronto. Some we have already implemented here in Milton, like WiFi at Town Hall and public pre-budget consultations. Others are potentially controversial, like the idea of Ranked Balloting for Municipal elections (which, apparently, most American municipalities use already).
Meslin points out that if businesses designed their advertisements like our municipal governments do, they would look like this: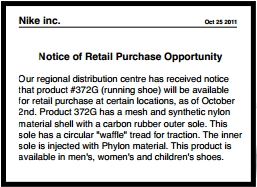 To demonstrate what is possible, he challenged designers to come up with clear, attractive, easy to understand public notices. They came up with some great designs, all of which include illustrations of exactly what is being proposed and specific ways in which people can get involved.
Last year, the Village of Pemberton, BC became the first municipality to re-design their public notices based on the Fourth Wall recommendations.


There are lots of other proposals that could easily be applied to Milton. Some of my favourites include:
Engaging kids early by inviting grade school students to spend a day or even a week at Town Hall learning about the inner workings of their local government.

Organize, support, and even help fund residents groups, in the same way that the town supports the BIA.

Hold municipal elections on weekends instead of weekdays to increase voter turnout.
Meslin is now taking his show on the road, setting up The Fourth Wall exhibit in other municipalities and talking to councillors and citizens groups about his ideas. I would very much like to see it installed at our own lovely Town Hall, along with a presentation to Council.

Who knows? Maybe we can use it to spark some more of the same energy we had in those heady days before and after the last election.